Day 75 – Mueang Bueng Kan to Mueang Nong Khai
We didn't have a plan for today, we were going to do 100, 140 or 161+ kms, but we were going to base it on how we felt at the time. At 100km, in the town of Phon Phisai, we felt fine, we had been powering along at 23kms per hour and doing another 40+ kms seemed very possible. So we kept riding.
At 20km outside of Nong Khai a man on a scooter, Pele, said hello. He had been chatting with us on facebook and offered to take us into Nong Khai and grab some photos. Very nice of him!
We rode into town, I felt great. If it was not for our host I would have most likely visited the post office and continued towards Udon Thani for another 25km to break the 'imperial century' on this bicycle. I was unclear about how Natt felt at the time, but as far as breaking the imperial century,  it never happened, at least not on this day.
So doing 140km today was a breeze, most likely because the hills were minimal and the clouds kept the sun covered. It rained a few drops, but overall it was the kind of day that cyclists love. Not hot, Not cold, No headwinds… bright and breezy.
I'm a little sad that we didn't push on, but on the good side we got to enjoy Nong Khai a little more. We ate dinner on the water's edge and relaxed in a lovely room for 600B not far from the border market. I think we might go out for another walk a little later, once the sun goes down, and enjoy the riverside some more.
Tomorrow is only 50km to Udon Thani, so I think we'll get up late and ride for a couple of hours. After the long break between province #42 and #43, it will be nice to get through the next few provinces kind of quickly… until we start to head south at least.
I received some mail today that was sent POSTE RESTANTE to Nong Khai. It's a great way to receive packages while on the move. You direct the mail to the post office (make sure you have the postcode correct, you can get it from the posters on the wall in any post office).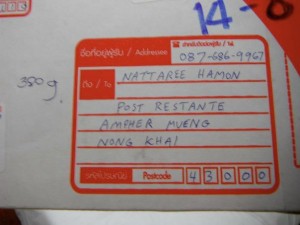 This one was labeled:
NATTAREE HAMON
POSTE RESTANTE
AMPHUR MUEANG
NONG KHAI
430000
And included her mobile phone number in the box provided.
To collect the package you need the EMS tracking number and some form of ID. For a foreigner it is your passport, for a Thai it is the national identity card. The post office will hold the mail for up to 1 month for you. You can have someone send you mail anywhere in Thailand, or you can even send it to yourself before you leave home if you're only going on a short trip.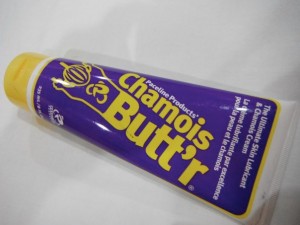 I received some CHAMOIS BUTT'R from my friend and fellow cyclist Michael Conroy via John Graham from Bicycle Thailand. I've never used it before, but I've heard wonderful things. I'm not too keen on the idea of lathering my ass with goo, but I will let you know how it goes. Hopefully, it will make 140kms in the saddle a little less painful.
Even if today was not painful at all, not for my ass but for my Back/Shoulders, I still think I will be adjusting my handlebar position tomorrow. I don't really understand why I've had a bit of pain, as it's only been the last few weeks my back has been aching, but maybe it's because we've been doing longer distances with less breaks since we've gotten stronger.