Day 62 – Mukdahan to Nakhon Phanom
Today was a long day. We made some new friends in Nakhon Phanom. We had been contacted by June, who is a fellow cyclist (female, single, late 20s if anyone interested :p), and I didn't have time to write about her and her friends in my journal entry yesterday so I'm doing it today.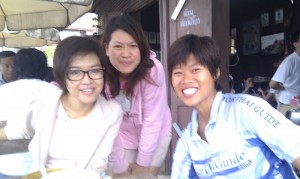 June and her gang of friends took us on a 12km ride around town at sunset, which was very lovely with the river as our background and plenty of other cyclists pedaling along the quiet roads. We enjoyed some food together, sitting beside the river and chatting.
June and her sister (Joy) both spoke good English. June had lived in Australia for a few years and we chatted about cycling and our trip and life in Nakhon Phanom. It was one of the first times that our local guide spoke English, so it was extra interesting for me. She had been following our story for the past month and was excited to finally meet us.
I can tell you it was great to meet all of them. Every town where we have a local to take us around makes the town so much better. I have personally liked Nakhon Phanom for the past 5 years and this is my 3rd visit. The town itself is small and bicycles can be seen along the roads every day around sunset. The town also has an amazing avenue that runs along the Mekong River for approximately 6kms. I'm guessing on that distance, but that sounds about right.
It's one of the only towns that really has capitalized on being on the edge of the Mekong River, the whole community seems to enjoy it. Other towns have attempted similar setups, but this town seems to have done it correctly. Every time I've been there I've seen people sitting, eating, and enjoying the view… which I think is great.
So here is my list of notes I wrote last night to jog my memory today:
1. Good Sleep
2. Late Start
3. Road to That Phanom
4. Giant Phra Wat thingo
5. See the giant phra wat thingo again (15kms away)
6. See the giant phra wat thingo again (Nakhon Phanom)
7. Work out the post office is closed (public holiday)
8. Visit TAT and get a little bit of information
9. Get a Hotel (400B nice)
10. Watch the Nakhon Phanom Candle Festival Parade
11. Get invited out by Joy and Jane for a ride
12. Ride with the Gang, visit some sites
13. Have dinner with them
14. Plan to meet them tomorrow morning
It all looks a lot more boring and statistical when I look at my notes today, but I would like to add that the town of That Phanom and Phra Wat That Phanom are worth a visit. They are about 50kms in the direction of Mukdahan and both places have a very unique design.
I don't think I'll bother breaking down the list, but if you really want to ask about one specific item from my list please let me know in the comments section below.