Weekly Round Up and Pattani Cycling Club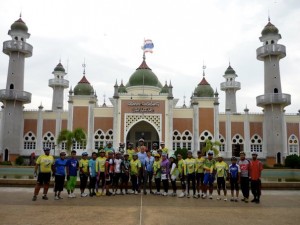 Firstly, Natt and I want to thank ซี ฮาเลม มาลา and the whole ชมรมจักรยานจังหวัดปัตตานี (Pattani Cycling Club) for everything they have done for us, but more about that later.
Total: 550kms – 5 Provinces and around 27 hours in the saddle.
Expenses for the last 7 days: 7,894 Baht (will do a breakdown after 4 weeks).
Day 1: 86kms – Surat Thani
Day 2: 70kms – Nakhon Si Thammarat
Day 3: 10kms – Nahon Si Thammarat
Day 4: 110kms – Phutthalung
Day 5: 103kms – Songhkla
Day 6: 100kms – Songkhla
Day 7: 71kms – Pattani
Today was amazing, the cycling group in Pattani has been generous with both their time and resources, showing us around and demonstrating that Pattani is a great destination for cyclists. We had around 50 people come out and ride with us the last 15kms into the capital city. Then they checked us into the nicest hotel in town covered our room for two days and said they'd be back at 4pm for a cycle around town and to meet the Mayor of Pattani. At 4pm we had another 50 people come out and do a 15km spin around Pattani city. They then took us out to dinner to try Khao Yum, a local Muslim dish that was very tasty and unique to the Southern provinces.
The first day in the Red Zone has been a blast, and not in the way we expected. The people here know how to have a laugh, they are really full of life and energy. The majority of the cycling community is Muslim and they accepted an Atheist and a Buddhist into their lives like family.
I wanted to kick myself when I forgot to turn on the GPS for about 4kms of the ride around town today. However, I did manage to record most of day's 72kms. It was a pretty tree lined freeway into town with a reasonably low level traffic. I believe it was a public holiday for Buddhists and that may have accounted for the drop in traffic, or maybe it's just getting thinner around here.
We're staying at the swanky CS Pattani Hotel. The owner is a Senator and he informed us that yesterday he had a cycling couple from America (but we also had heard that they where Australian) who had just come across to Thailand from Malaysia. So people are cycling in this part of the world, and with the people as friendly as this I'm not surprised.
Danger might be all around us here but you have just as much of a chance getting blown up in Bangkok as you do Pattani. Personally, I think we've got a greater chance of being run over by a sleep-deprived truck driver on our 9,000km ride around Thailand, than being in the wrong place at the wrong time inside the "red zone."
Tomorrow we will have a day off and relax after doing 550kms in the last 7 days. I'm sure our legs need a break. I know one day will help me a lot, if our last break day was anything to go by. The cycling is getting much easier, each kilometer under our belt makes the next one more fun because it's less work.
We'll be heading to Narathiwat with a dozen people from the Pattani cycling group in a couple of days. I also believe that the local club from Narathiwat will be coming out to meet us half way, their club's president is also the director of the Narathiwat hospital and I think we'll be in for another private tour of their town, which will be amazing.
I had a great time today. I think Natt had a great time also. Even though we've only done 5 provinces and have 73 more to go, people are starting to understand the idea of what we're doing. I think as we show them the log book with more and more names and business cards others will get behind us, and hopefully when we ride into Bangkok we can bring more focus to domestic cycling in Thailand.
I think I need to make a page of names on the website of people who have given us a business card, so others can see who we've managed to share our little adventure with. I think at the end of the tour the most important thing we'll have is our little log book, which definitely needs a bicycle sticker for the front cover.
I know my posts have been missing photos, but once we get a couple of days with some decent internet I'll spend some time peppering the posts with relevant shots. Speak soon!