Shipment arrives from German but needs…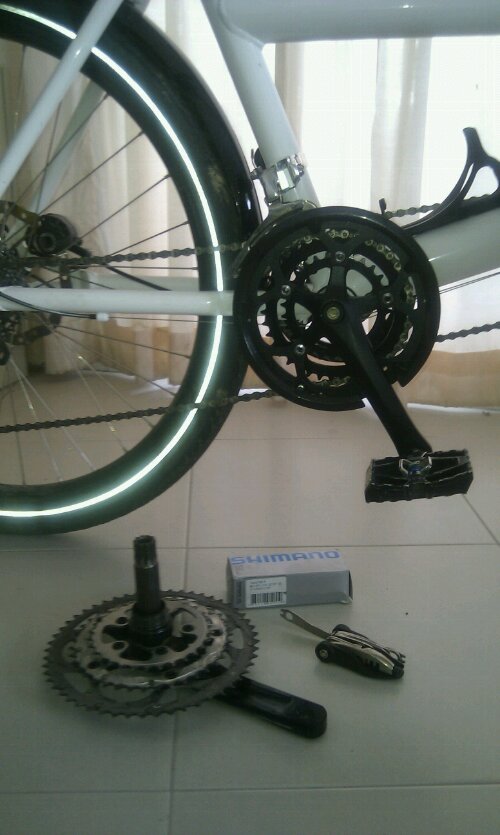 The box arrived with not only replacement parts for the freewheel but with two whole new cranksets and other assorted parts to accomplish the upgrade. I was very happy with their service! I hope that nothing goes wrong in the future, but knowing that the company is responsive makes me feel good about the 5,500 Euro price tag (obviously our bike was not that much because it was an ex-demo model).
So not knowing bugger all about bottom brackets, chains, crank pullers and the like I enlisted the help of Bicycle Thailand owner and friend, John Graham,  master know-it-all of bicycle maintenance. One afternoon, not too long after the box had arrived he rode his bicycle up to our house 15km with a backpack full of tools, on the promise of some pizza and a strategy chat about the growth of his cycling website.
We tore into the recumbent and had it apart in no time. The original  Elita TRUVATIV equipment came off without a hitch. John informed me that the quality of these components was good but hard to find replacement parts (and the tools they use) in Thailand and the bike shops of Southeast Asia.
Problems arose when we tried to put the new crankset on. The bottom bracket was totally different. The new cranks were good old fashioned tapered square style. I didn't know my bicycle stuff and had not noticed or mentioned any difference between the old and new parts in the brief discussion I had had with John. Great news when you need replacement parts, bad news when the box sent to you didn't have a new bottom bracket in it.
So we had to put the work on hold, until we could source a new bottom bracket. We didn't know the size, so I contacted [h] again and asked the size. For future reference the front bottom bracket is 68x113mm and the rear is 68x115mm. So the next job was to find a 68x115mm. We decided to keep the original bottom bracket and crankset on the front of the bicycle as it was of a higher quality and had the same number of teeth as the new one.
The Search
Thailand has a great number of bicycle shops, but sometimes it's hard to find particular items like 9speed chains, bleed kits for hydraulic brake systems, brake pads of all manner of discs, and more. One thing you can usually find is a square tapered bottom bracket, but evidently not one that is 68x115mm. Between John and myself we visited maybe 8 of the biggest and best shops and distributors in Bangkok (กรุงเทพมหานคร) and in my home province of Prachuap Khiri Khan (ประจวบคีรีขันธ์) but had no luck.
So, after 2 months of looking for a simple $20 bottom bracket, I had to order it online. I found the JensonUSA online shop had a Shimano UN-73 Bottom Bracket 68x115mm for the lovely price of only US$16.00 plus shipping and Thailand customs duties. So, in the end, it was not really that cheap. But, that's a story for another day.
Finally, as you can see in the photo, the new crankset is on and after a quick 25km ride to breakfast the next day we worked out that everything feels as good as new. In the end we decided to keep the replacement front cranks and the 68x113mm bottom bracket at Natt's mother and father's place so that if during our ride we have issues with the front crank we can have them EMS the package to a hotel in a town with a decent bicycle shop (you can find a pretty comprehesive list on Bicycle Thailand website).