Relaxing in Ban Krut (Prachuap Khiri Khan)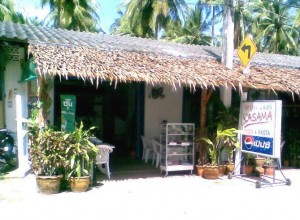 We have done nearly 2,000 kilometres in 24 days and it was great fun, but now we have a few days to kill until we pop up to Surin in the bus for Chris and Gae's wedding, so we have chosen to stay in the lovely and quiet beach side town of Ban Krut. We have been graciously hosted by the owners of Kasama Pizza restaurant while we are in town. This place is great if you're a whitey like me looking for some white man food.
The owners of Kasama's have a lovely house just 100m from the beach with an amazing outdoor relaxation area great for writing your updates, reading books, or having a cold beer and a chat. Gop (Kasama) and Byron are lovely people who have many stories to tell and are great personalities in this town in their own right. Byron Bales has a series of published books about a Private Detective, his name is Mike Roth. I have not read any of the stories but I've just downloaded Family Business as an ebook to my computer to read when I want something quiet to do after a day of cycling.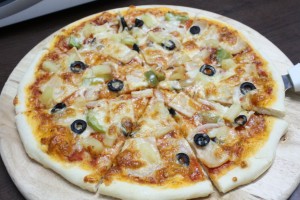 Today will consist mostly of eating, chatting, and swimming in the pool. Natt had vowed to give the bicycle a good cleaning after the rain and dirt we had encountered a couple of days ago. Each night I can still feel my legs hurting from the riding. It's been 2 nights now that I've felt this and I wonder if tomorrow morning when I stretch my legs they will feel good and ready to ride again. I have done 2,500kms in a month before and this month will be around the same, but I've never done a month with so many hills… 5,621 metres so far, which works out to 3 metres of climbing for every 1 kilometre cycled. Doesn't sounds like much..!?! I wish it was all 1:333 grade.
We will go next to Amphoe Mueang Prachaup Khiri Khan after our little battery recharge here in Ban Krut then we will continue on to the provinces of Petchaburi, Ratchaburi, and Kanchanburi and then head east towards Bangkok. We will cycle under and around Bangkok to reach the east coast area, because we want to avoid Bangkok until the end of our trip. We're hoping to gain a little more media coverage and some more stories along the way so that when we hit Bangkok at the ed of our trip we will have more cyclists come out and ride with us into the capital city.
Natt just finished cleaning the bicycle. I think it's time for a swim in the pool and then I'll come back and oil the chain to get it ready for our onward journey. John Graham of BicycleThailand.com also told me to give the chain a good oil the day BEFORE you want to ride, which allows the oil time to penetrate into each link of the chain. He stresses that you should not just do it 15 minutes before you ride because the wet chain will attract more dirt and debris. It sounds like solid advice and I try to follow it at all times but laziness sometimes sets in.
Natt and I have been discussing with John how our trip could be reworked into a book after we complete the 77 provinces. It has been a dream of mine since we thought up this crazy ride idea to produce a book which would tell people about Natt Opasanon and her private tour guide business. We also feel that a book would show what a great country Thailand is for cycling while simultaneously revealing all of the unseen tourist locations and destinations that exist in this beautiful country.
We don't really know where to go from here, but I think that if we keep thinking and planning for a book then it would be totally possible. I am not adverse to investing in something that I believe will help Natt's business grow and subsequently secure her future as a private tour guide provider.