Meeting Nature Focus Thailand in Nan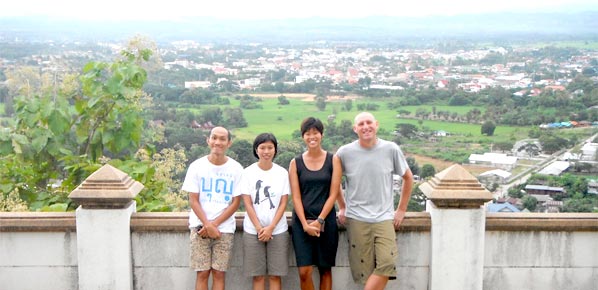 Yesterday, we had the honor to meet Tu and Jan from Nature Focus Thailand (www.naturefocusthailand.com). Our meeting them was purely by accident, but we're very glad that we did.
We noticed a couple having dinner on the other side of the road as we walked past, they had a tandem folding bicycle with them. Natt and I debated if we should walk over and say hello. We decided not too because they we're in the middle of eating. End of story, one would think.
Back at the hotel about an hour later we received a phone call. We get many as we've got the number on the website and people call us to offer help, find out where we are and give us advice, which is always welcome.
This gentleman asked if we were walking down the street in Mueang Nan an hour or so ago, we said yes and he proceeded to tell us that he was eating dinner with his wife and saw a couple noticed his tandem. This jogged his memory about the couple he had been reading about that were cycling around Thailand.
He and his wife finished their meal quickly, got on their bicycle and searched around for us, but we had vanished. They searched the internet when they got home and took a gamble and called. We're very happy they did.
We met them the following day for lunch where we found out a lot about them and their chosen lifestyle; Birding (Bird watching) and mammaling (Mammal watching), taking eco-tours, and being general all round naturalists (no not naturists, the nudist ones).
We spend the afternoon with them, checking out their photos, talking about bird watching, the environment and more. This was the first time I've heard a Thai person excited about nature and its protection (I know there must be more), but this was my first encounter, they are a very rare specimen.
We said our goodbyes and exchanged details, planning to pop in for breakfast before we left Nan. Luckily (or maybe the gods had arranged it) it had been raining, and all our clothes were not yet dry. So we had to spend an extra day in lovely Nan.
We bumped breakfast to lunch and spent the afternoon and evening with them. I personally was very excited by this couple. They cared, truly cared about the natural world. They donated their time and energy to helping, improving and learning.
You meet these people in the countryside of Australia often. Natt and I have met our fair share. But to find some English speaking Thai's with interest in the world was great. Both university educated, smart and not interested in the pursuit of the all mighty dollar. I'm sure they like money, but they also want to make sure it's done the correct way.
Taken from their website, www.naturefocusthailand.com:
Thailand has to be the country of choice for any naturalist or nature-lover with an interest in the South-East Asian region. Thailand boasts a rich fauna and flora, as well as stunning landscapes. With an excellent infrastructure, is also ideal for other activities such as hiking, cycling, photography, birding, and animal watching.
If you are interested in a tour truly close to Nature, you should contact Tu and Jan to help you build your own once-in-a-lifetime trip to Thailand.