Final Check of the Hase Pino Tour
Today was the final bicycle check with friend John Graham from Bicycle Thailand. We spent a few hours making some small adjustments and playing with the length of the boom for Natt as well as  sorting out a GPS mounting location on the unusual handlebars. It was great working with John. He knows his stuff and it's more like a mechanic's lesson than just paying someone else to fix things. I always go away knowing more about bicycles and just general knowledge after working with John. I was not a very handy child. I was more into maths and computers so this kind of work is something I never did. I guess also my wonderful Dad was very good at working with things and would always 'help' me with mechanical projects, but the real translation of that would be 'do it for me.' I'm always thankful, but I didn't learn as much that way.
Tomorrow we will head down to Surat Thani (สุราษฎร์ธานี) via minivan with the bicycle and start our Every Province Challenge from there. Sura Thani is the point of the Thai peninsular hook that makes the path of the first 2000km of our trip. Our trip will proceed down the inside of the Gulf of Thailand and into Thailand's red (or danger) zone. We will then travel down and across the peninsula before finally going up to Phuket (ภูเก็ต). From Phuket we will cycle along the Andaman Sea coast North to Ranong (ระนอง), then back across the peninsula to Chumphon (ชุมพร) and the Gulf of Thailand. We plan to be back in Hua Hin 4 weeks after our departure.
All of this route is going to be new for us. I'm thinking 90% of this route we have never see or cycled before which is great for us; something new, something different, and most likely a lot more of getting lost. The Hase Pino Tour has turned out great so far. It looks like it's going to be an awesome machine to ride. It's got a few possible 'flaws' in the design for long distance riding, but we'll learn a lot more about the bike over the months ahead. Maybe they're not faults at all but there for a reason that we just have not yet discovered. Haven only ridden 300km on the bike means that problems that arise after several days of long distance riding have not yet shown themselves. I think when we arrive back in Hua Hin in a month's time (and after a few days off for our friends wedding) we will have the expert hand of John Graham again to help us fix any problems which have become more evident over the Southern portion of our trip. This should ensure the bike is good and ready for the next 7,000kms.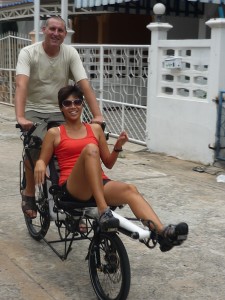 Natt is getting excited. She has been between excitement and nervousness over the past 3 weeks about traveling through the 'red zone' where there is some conflict between Muslim and Buddhist groups. It's been like this for the past 5 years or so, but she's been in contact with the local bicycle clubs in that area and they'll be joining us for some of the riding and giving us some details from a locals point of view. I think all of that has made Natt a little more comfortable. We'll only be spending 3 days and 300km inside the troubled area, but I have read in so many older journals like Mr Pumpy that it's a lovely part of Thailand that should be ridden, so I'm hoping it's trouble free and enjoyable.