Day 40 – Samut Prakan to Chachoengsao
Big rain at 5am, big rain at 6am… finally road off at 6:30am in a very light drizzle down a busy Sukhumvit road (it's a very long road). We hoped to be out early and 20kms down the road before the buses, workers, school kids, and truck drivers started filling it up, but the rain made us lazy and we relaxed in bed until it had nearly stopped. We paid for our laziness for the first 50kms of today's ride.
Light rain, road grime, truck fumes, car splashes, chain lube that gets displaced by water… it all turned our lovely bicycle into a greyish mess. The cycling today was not fun until we nearly reached our destination, the last 10kms around town were the only part we enjoyed. For our next ride I have planned to use as many little roads as possible into Chon Buri, hopefully this will be more relaxing.
I'm not going to talk more about our ride today, but I will talk about 2 great items we have been using during our ride, Keen Commuter Sandals and Polar Bottles. These have both done a great job and need a little story about them, Natt and I both agree they are great for cycle touring.
Keen Commuter Sandals – I have been using these cleat-based sandals for the past 4 years, and Natt has been using them for the past 40 days (she's been using cleats for the past 40 days too!). The Sandals are awesome… great for several reasons.
First, when I purchased them my sandals were very tight. I purchased them over the internet. When I first put them on I was sure they were too small and I was worried about the fit. Since I had no choice but to use them, as they had arrived only weeks before our tour started, I did (I also brought my 4 year old pair for backup).
They were tight, but one thing I had learned from my previous pair was that they would eventually mold to your feet over time. The fabric stretches a little (just like any new shoes), and I noticed how my old pair was very loose before I decided to replace them. Actually, my old pair were not very comfortable as my foot moved around inside them too much, this was the main reason I purchased the new pair in a smaller size. I really had no idea what size my old pair was so I guessed, and that is why I was very worried when the new pair arrived and were tight.
I had read reviews saying that many people did not like these shoes when they first put them on, but after only 2 weeks of wearing them my new pair now fit my feet perfectly. It's not that they stretched, it's more like they have 'relaxed' and the good news is if they do relax anymore the length of the shoe remains perfect while the width of the shoe can be tightened by using the pull cord laces.
Natt has the opposite problem, her new shoes are a little too big. They have been rubbing a little bit in a strange spot on her foot so next time we'll get her one size smaller or we'll do a better job of guessing. Luckily I think her seat position, that keeps her feet naturally falling back into the heels of her shoes, makes it less of a problem than if she were riding in an upright position with these shoes on a regular bike.
As for usage, they're great because they protect your toes while letting your feet breath naturally. There is no need to wear socks, which saves on washing. If they get wet (and I do shower with them on to clean them after riding in the rain) they only take a few hours to dry out, unlike normal bicycle shoes that sometimes are still not dry by the next morning. The Keen sandals are good for water, rain, rivers, and mud.
They also work really well with our Crank Brothers cleats, which are smaller than most cleat systems, allowing you to walk around totally normally in your cycling shoes. It would be possible to wear these shoes on and off the bike for the whole trip, but we have brought a second pair of flip-flops each to give our feet a break from being in the same shoes for so many hours each day.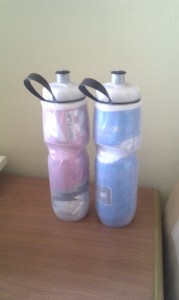 Second, we purchased some 700ml Polar bottles a few weeks ago at one of the bicycle shops we visited. The bottles have insulation inside which keeps the water colder longer (and it works). Plus, there is no sunlight that can get inside the bottles during the hot day of riding. These are great, probably the best water bottles I have ever owned and they're relatively inexpensive, 500 Baht each.
They also have a nice 6cm plastic loop around the top which makes it very easy to grab when you are riding. I remember seeing our friend Ester from Hong Kong using a Polar water bottle when she rode the Tour de Thailand back 2010. I remember thinking back then that the insulation inside the bottle would not work very well, but now that I've had the opportunity to test it myself I can honestly say that it does a surprisingly good job.
Anyway, those are my two product suggestions for people who like bicycle touring. I would suggest that you have a look into these and consider whether they're right for you and your needs. I have definitely found the toe protection given by my Keen Sandals very helpful, they are a truly amazing addition to my cycling kit.