Becoming a nomad for 5 or so months…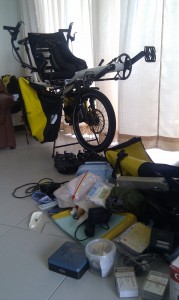 A couple of days ago we started packing up our little place. We don't have a crazy amount of stuff, but sorting everything and working out where it's going, what we're taking and what we should not take, is hard. We've got around 210 litres of bags, not that we're trying to fill them all, but it's very hard not to say, "let's put it in the 'to-take' pile… this pile looks like it's growing."
We will not be moving back to Hua Hin after our Thailand bicycle tour, but will be moving to Bangkok. So, we're taking a few boxes of stuff to Natt's mum and dad and some friends here in Hua Hin, Chris and Gae of Tour de Asia Bicycle Touring Company, and John of Bicycle Thailand will be looking after some of the large household stuff. More importantly, they'll be looking after our other bicycles while we're on the road.
Having ridden from Chiang Mai to Phuket previously with an organized tour, the Tour de Thailand, and having done our own solo bicycle tour from Hua Hin, Thailand to Kuala Lumpur, Malaysia, we're both aware that the packing of the panniers for this trip has not yet gotten serious. I've started collecting up the things we need, but unlike our first solo tour I don't feel the need to pack spares of everything, backups for everything, an extra this or that because we know there are plenty of bicycle shops around the country. We know there is food on every corner in Thailand and accommodation spots are all over the place. So, to me, it's all feeling very casual this time around.
While I'm not worried about the daily distances, which will only be between 70km-110km per day, since I know that I can easily do 90km in 4 hours by myself, the thought of being fully loaded on a tandem and doing those distances will truly be something new for both of us. I keep thinking, rightly or wrongly, that it's going to be the same on this tour. I don't know how Natt is going to hold up. I hope that with us riding at the same pace together it should remove problems and hopefully not make new ones.
Our basic plan is 2 days on and 1 day off with a 90km average distance on the days we cycle. I have done 2,500kms in 30 days before on the fully-supported Tour de Thailand, but when me and Natt cycled fully loaded to Malaysia we did 1,800kms in 30 days. Of course this was on 2 bicycles and it was definitely Natt who was having to work a lot harder than me each day.