Day 73-74 Two awful 'resorts' in a row!
Ok, it's been a 300km in 3 days and 2 pretty crap 'resorts' for 350B per night. Both resorts had musty rooms with rock hard beds and dirty bathrooms. So today we checked into the The One hotel in Bueng Kan for 790 Baht with breakfast (690 without). It's a brand new hotel with nice beds and all the modern conveniences, a little over our budget but sometimes you need to make yourself happy.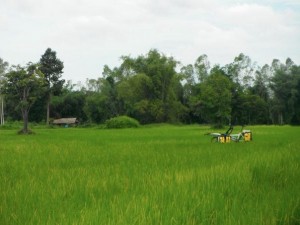 The cycling was relatively easy today, with only 75kms on small back roads with very little traffic. It helped that it was a public holiday (Mother's day), but that also meant that we had trouble finding food. We got some Mama noodles and kept riding.
Google Maps has been not-as-reliable since we hit Isan, but overall I still think it's pretty decent for outlining a ride plan for the day. Just don't expect it to be rock solid routes. Use your common sense and you'll get to where you want to go.
We have a day off in Bueng Kan to get the washing done, relax and get ready for our 700km ride south to Nakhon Ratchasima. That will be our exit from Isan. Bueng Kan is Thailand's newest province, less than 18 months old (as of August 2012) and it is a quiet little place along the Mekong River.
We ate afternoon lunch and relaxed riverside before the big rains came. Once the rain started, we retired to our room and relaxed in our room.
Today is our day off (Tuesday). We visited the post office, found the local bicycle shop, and did our washing. The One Hotel wanted 30 Baht per piece to wash our clothes, so it would have been over 1,000B ($30). We talked them down to 400B, but then they wanted to add 10% service charge and 7% tax, so we politely declined their offer and went in search of another laundry shop.
We found a local laundry shop a short bicycle ride away from the hotel where it cost us 110B to wash our clothes. I understand that the hotel needs to make some bucks, but x10 the price seems a little steep, am I wrong? Anyway, our laundry was done, clothes are clean, and we can continue to ride tomorrow.
Today, we just found out that Usanee Puangsuwan was on the side of the road a couple of days ago waving us down or saying hello. She's just completed a bicycle ride in the 'red zone' of southern Thailand. She made a journal that documents her trip on ThaiMTB.com.
She also met Shoot, the cyclist we met in Petchaburi who was on his North, West, East, South bicycle trip that he has now completed. He's got an upcoming event in Bangkok, showing photos and speaking about his trip, if anyone is interested.
เหนือ ตก ออก ใต้ / travel talk & slide show on Saturday, 18 August 2012
Tomorrow, we'll be cycling through Nong Khai, along the Mekong River the whole way. We'll be taking a similar route to the Tour de Isan, a great charity ride organized each year by Tour de Asia. The Tour de Isan charity ride raises money to help children born with cleft lip and palate.