Day 71-72 Saturday and Sunday with a total 225 kms
Saturday:
Flat tire rear… was our second rear flat and our fifth overall. It was the same problem we've had on 3 of the other flats… a 3-4mm piece of wire… the wire from an exploded car tire.
It was not a real problem, it was only a slow leak so we pumped it up and rode to a sala, the prefect pit-stop for this kind of work. Every sala provides shade, seats, and a work bench out of the rain, if it so happens to be raining. They are great as long as you don't have a crowd of onlookers watching you work.
We had a slight tailwind and smooth rolling hills, plus we were fresh off a rest day so it was quiet an easy day of riding. We were considering riding further, but a local told us there was not much accommodation ahead.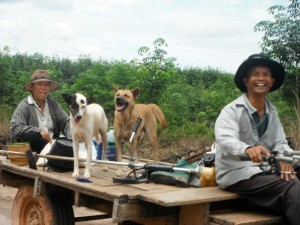 We found a room for 320 baht, it was a very old wooden shack with children's patterned linen on the bed and gaps between the floorboards wide enough to let in mozzies. But it was decent enough.
The owner of our 'hotel' ordered some food for us from the local shop a couple of kilometres away and when it arrived we ate in bed watching The Bourne Identity, which Natt had downloaded the day before.
Sunday:
We didn't do much. I felt fine after Saturday's ride but woke up on Sunday with a slight headache, I'm guessing from dehydration. So I took a 1000mg of paracetamol and skulled a large bottle of water.
We left around 7:30am, planning for 100km day to get us within 50kms of Bueng Kan, Thailand's newest province. We didn't quiet make it to our planned 100kms for the day. I was feeling very flat after around 60kms. I was drinking plenty of water and had had a couple of meals and was still optimistic we could make 100kms for the day, regardless of how I felt.
At the 80kms mark I was completely knackered… I had trouble making it into the town and was looking for somewhere to eat, but it was too difficult to even make a decision. Finally, Natt spotted good old 'Kar Man Gai' (chicken with rice) and we had a winner. I pulled in and told Natt I'd rest and eat and then make a decision about the rest of the day.
Whilst I ate and drank, Natt got on the phone and rang around to some resorts and tried to find out how far from our location they were. She also talked to the restaurant owner and he informed her that a new resort was less than 5km away, in the wrong direction.
So, we needed to decide between going 23kms towards our goal OR 5kms away from it, it was hard decision. We really really really hate going backwards, but I was not sure if I could make another hour on the bicycle to So Phi Sai, which was our original destination.
We opted for the 'less than 5kms' choice. I was counting down the 100 metre increments as we rode away from where we wanted to go. We passed a very old sign for a resort, we kept riding. We passed a spanking new sign for a resort, but it was not 'on the road' so we rode by that one as well. We were becoming increasingly aware that the hotel we were looking for was evidently NOT 5kms from the lunch stop.
Natt asked a local on the side of the road the whereabouts of the hotel. The local told us there was nothing ahead, and back 500 metres on the right was a place just 300 metres down the road. We had seen this place, but it was not as described to us over the phone so we had assumed that was not the hotel we were looking for.
We rode to the resort and pulled in to find a musty love hotel, small and old. I guess everyone in town had thought it new because of the brand new sign on the road. Or, maybe we are in the wrong place. WE ARE HERE, WE ARE RELAXING, AND WE ARE DRINKING WATER.
Final note, today we passed the 5,000km mark and also we're now in province number 44, but since we don't count the provinces until we visit the capital city we're still only at 42. 5,020kms is good news, only 4000 more to go!