Day 68 – Roi Et to Maha Sarakham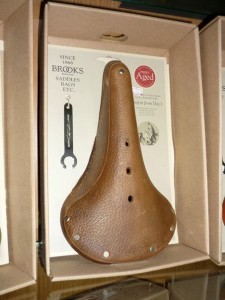 We've had a great run of great bicycle shops in these lesser known, or less famous, Isan provinces. Today, we visited Ban Rot Teep (House of the Push Vehicle, or obviously, Push Bike). An Amazing bicycle shop built with the hardcore bicycle tourer in mind. Amongst the Brooks saddles, Surly Bicycles, Ortlieb Panniers, and Topeak accessories is a group of cyclists that live to promote the joys of unsupported bicycle touring. The shop owners and employees also run regular touring trips. They're the guides and plan the routes, but everything else is 'pay as you go,' just as if you were on your own tour with a small group.
WEBSITE: Maha Sarakham Cycling Club
It was amazing, I've looked high and low for this kind of bicycle equipment in Bangkok. For example, 1.5 litre bottle holders, touring kickstands, add-ons to help you put more gadgets on your handlebars, and so much more. I was truly like a kid in a candy store. Between this shop and the one in Kalasin, only 45km away, you can find everything you need to have your own custom Surly built to your requirements, including all the top kit you need to spec a touring bicycle.
Not bad for two provinces that 99% of foreigners to Thailand have never heard of. When people tell me that Thailand is full of poor people, I just have to laugh. There is plenty of wealth here. These two provinces are 500kms from Bangkok and are rather tiny in the grand scheme of things, but while I bet these provinces have some of the lowest average daily wages the availability of high-end goods tells a completely different story.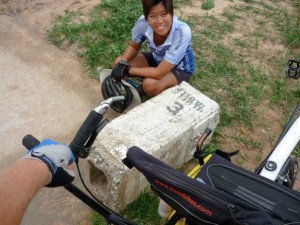 Don't be fooled, if you want high-end goods you can get them, you just have to know where too look. Many 'farang' think that most of the bicycle shops in Thailand are of a low quality, but hidden throughout the country are some amazing people that are just as in love with cycling as people in Australia, Europe or America. The problem is us 'farang' can never find them. We don't take enough time to learn the language and really TALK to the locals.
Hotel is awesome for 499 Baht (no breakfast). It's called the Taksila Hotel, it's near the shopping plaza not far from the centre of town. Nothing much else to report, tomorrow is 70kms and then we'll be in Khon Kaen. Today, was just 50kms and then we spent a bit of time at the bicycle shop. So, aside from that, nothing extra or interesting to report.
Honestly, the cycling has been a little boring, the roads have wide shoulders, traffic has been reasonably light, and the weather has been cool and cloudy with very light rain. We really have had perfect cycling weather for Thailand, I hope it's like this all the way up to Bueng Kan.