Day 66 – Sahatsakhan to Mueang Kalasin and 50% complete
We rode 35kms today, which put us into our 39th province and over the half way mark on our trip. Now we have only 38 provinces more to go and around 4,500 kms by all calculations. The reward for reaching our half way mark was pizza for lunch and a nice(er) hotel room for the night at 600 Baht.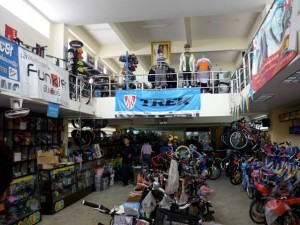 Kalasin has a very large and well stocked bicycle shop (GPS N16 26.158 E103 30.694). On the outside it looks like your usual run of the mill LA Bicycle shop, but upstairs in the 'Pro section' they have the most complete amount of high quality accessories and equipment that I've only dreamt about in Thailand.
I find that 95% of the bicycle shops in Thailand have a limited range of equipment and they seem to think that 1 or maybe 2 items provides enough choice, anything else is a waste of space. It also seems that high end products like POLAR water bottles, test saddles (although I have seen more of these around), and other cool products just don't make it to their shop floors.
When I imagine a good bicycle shop in Bangkok, I think of one which has 10 different brands for each product and an actual range of items that are all different in price, specifications, and quality. In reality, I find that you need to visit 10 shops to get any range and it's very frustrating.
Today was great. This bicycle shop had 5 different brands of folding tires, 5 different brands of gloves, 5 different brands/types of water bottles, 5 different brands of stems, and the shop owner had touring mud guards that ranged from what I would call 'cheap as shit' all of the way up to 'high quality.' I think you get the picture… and the shop's showroom floor was all laid out in a logical and useful manner.
I didn't go into this shop to purchase anything in particular, but just seeing that someone had done it correctly for maybe the first time that I'd seen in Thailand, I ended up spending a couple of thousand baht to support this shop and show my appreciation to the owner. As far as I'm concerned, this shop is better than all of the bicycle shops in Khon Kaen put together.
Anyway, we cycled until we found a nice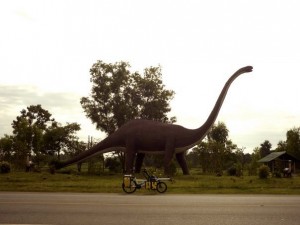 hotel room where we relaxed while uploading trip photos. Tomorrow we'll do 50kms to Roi Et and then 100kms on the following day to Khon Kaen via Maha Sarakham. Once in Khon Kaen we will head north again to Bueng Kan and Nong Khai provinces.