Day 65 – Mueang Sakon Nakhon to Dinosaur Museum
Hills. We hadn't seen hills in a while. We had to pass a small mountain range to cross into the Kalasin province, going up one side, along the spine, and then down the other side. It was good riding, 766m ascent and 520m at the highest point, and we felt much stronger today than when we had encountered hills cycling from Ranong to Chumphon.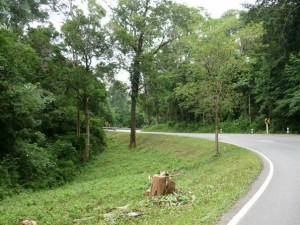 We didn't have to stop, we didn't have to push. The grade was much more reasonable and we hit the hills at approximately the 10km mark and completed almost all of the climbing by the 60km point. This was a much better situation than the last big hill we came up against. Also, the grade was much better, something manageable for us on our 210-220kgs bicycle.
I forgot to mention that a couple of days ago we rolled down the truck weigh station line and put the bicycle on the scales. I've been wanting to do it since forever, but have not had the guts. However, the other day we said fuck it and we did it. We were not sure if it would register but it did. Natt and I, the bicycle, and all our kit weighs between 210-220kgs. I will weigh it again next time I see a truck weigh station just to double check.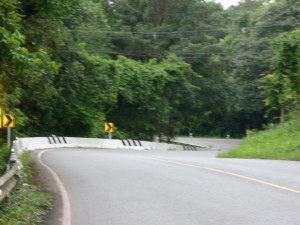 We had an AWESOME 10kms downhill ride just after the peak of climbing on the border of the two provinces. I don't know how long it took, but it was fun. I think it was the best downhill of the trip so far. I was very happy at the end of it. It was definitely worth all of the pushing.
We made it down the hill and rode on a fairly boring road for 30kms until we arrived in the town of Somdet where we ate lunch. We know had a decision to make, whether to head directly to Amphoe Mueang to reach our half way mark or ride 30kms to a town with a dinosaur museum in Sahatsakhan. Many fossils are found in this area of Thailand and we had heard that some of the best ones were on display at this museum and education centre. It was a tough decision, but we finally decided to venture forth to the dinosaur museum.
The museum was interesting. Admission was free until 3-4 months ago, but now they have a double priced charging system, 40 Baht for Thais and 100 Baht for farangs. I would have liked to see more of the dinosaur bones that had been discovered in Thailand and to learn more about how and where these bones were discovered, but that was not to be.
I think personally for 100B it was worth it if we were NOT on a budget, but we are so I don't think it was value for money. I do highly encourage others to come and see it for yourself and make your own decision. The museum is worth an hour or two of your time and the place looks to be well looked after, unlike many other science parks I have visited in Thailand.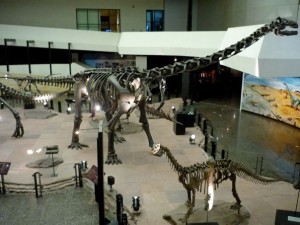 The closest 'resort' to the museum is 500m away and I would suggest that you do not stay here, it's a dive. I think the shower actually made me more dirty than I was before. It will easily be an early rise tomorrow just to get the hell out of this hotel. On the good side, it was only 300B with air-con.
I'm happy with the day overall. Natt and I did well on the hills and in my opinion it was a win. I hope that the crossings from one province to another in Northern Thailand are like what we experienced today. If they are than we're going to be ok. Otherwise, it's going to be a real workout… only time will tell.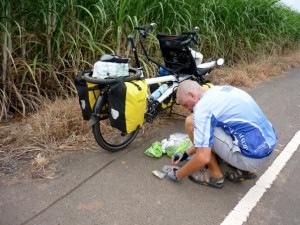 I almost forgot to mention that my seat broke and we nearly crashed. I found myself sitting on the rear rack unable to reach the brakes, yelling "Stop Stop Stop" to the universe. I finally was able to reach a brake, I think it was the rear one, and we skidded to a halt, about 3-4 metres before the edge of the road. If we had flown off the road we would have ended up in a corn field. Oh well, it was an exciting bit of fun.
Once I had a chance to look at the seat, I noticed one of the bolt heads had snapped off, causing the seat to come loose and me to fall backwards. My first thought was that I would have to ride 10kms while sitting lightly on the rear rack (It's only rated for 50kgs). But luckily, I had a replacement bolt onboard. The replacement bolt is about 1cm too short and I'm a little worried that it does not have a strong hold, but it will have to do the job until we reach Kalasin tomorrow.
So that's it, I'm about to finish my second long neck (large beer for you non Aussies) and then I'm going to watch a movie and go to sleep. It's not very late, only 5pm.