Day 56 – Mueang Surin to Mueang Si Sa Ket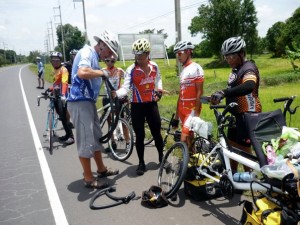 Leaving Surin was hard, because I didn't want to get out of bed. The freight train of on air conditioner rattled all night long and it didn't help my sleeping… obviously the motion of the train is the most important part!
We awoke, we rode… we visited a historical location about 35km outside of town and grabbed some photos of our bicycle in the rebuilt ruins. I hope we've got a couple of nice ones. At around 55kms we met up with a cycling group from Si Sa Ket that had ridden out from their town to meet us half way.
It was great to see them, they were very helpful and accommodating. We managed to travel around 10km to the provincial capital when one of the chaps got a flat, so we stopped and fixed it. His problem got me thinking about how lucky Natt and I have been with regards to flat tires since we began our trip, having only one in approximately 4,000 kms.
As we rode on the bicycle became slow and I sensed that something was wrong. I thought maybe we were on one of those hills that looks like its rolling down but is really going up (they do exist), but it was not that as we quickly discovered we had our own flat tire. Now I know that I should not have jinxed us by thinking about our previous luck. Luckily, this time it was a rear flat tire and it didn't cause an accident.
We stopped, fixed it, and now I've successfully done a front and back tire change without flipping the bicycle over, which is great. This time, just like last time, we left 4 of the 6 panniers on the bike whilst changing the tube, making it much easier because we didn't have to unpack everything.
I used the 2 rear panniers under the rack on the back to hold the bicycle up whilst we worked on replacing the tube. It was very easy actually, even getting the wheel back in was not difficult from this position. So it's great that we didn't have to unload the bike and flip it over, much time was saved and we were on our way in only a few minutes.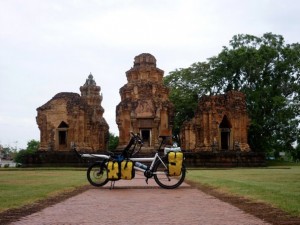 We stopped to view more Khmer ruins, this time they were inside a temple that was interesting to wander around. I didn't think I had been to these particular ruins before since there are so many that I'm starting to forget which ones I've previously seen. Natt's tour guide course has really helped to remind both of us of what we have seen. I remember 5 years ago Natt knowing very little about anything historical, but these days she's a regular wikipedia of Thailand information.
We left the temple and headed to town. Our contingent of 8 'guest' riders must have been hungry as they left us in their wake and disappeared towards the day's organized lunch stop. These guys were pros at making someone feel welcome, I tried my best Thai and they attempted their best English… not much real communication happened but it was certainly fun trying.
I believe James was the one that chatted to Natt on thaiMTB.com and organized this little gang of jakrayans. I would like to say thank you for that and I believe that they will be riding with us for a little way out of town tomorrow, which will be great.
The youngest member of the group was 15, he managed to ride the 110kms on a specialized road bicycle with ease. It just proves once again that pretty much anyone can do this kind of thing. I know bicycle riders from 15 to 75 (maybe older) years old and they can all put a hundred kms under their belt in a day. ANYONE CAN DO IT.
We finally made it to town. In town we visited the post office, a local bicycle shop, and then found a hotel where we had a shower and relaxed.
Around 6pm James picked us up and took to the local bicycle group's restaurant hang out. We ate a lot of food and had a couple of beers, it was good afternoon. I'm unsure of the restaurant's name but it's got a bunch of bicycles out the front and it's across the road from the newly opened Big C supermarket. The food was great and so was the company.
By the time we got back to our hotel it was already 9pm, fairly late for us so we hit the hay and had a pretty awesome sleep. The hotel was comfortable and for 450 Baht had a very decent breakfast included. Boonsiri Boutique Hotel. It's only downside is the pink decor (luckily not inside the rooms), but the people were friendly and the service was great.