Day 55 – Mueang Buri Ram to Mueang Surin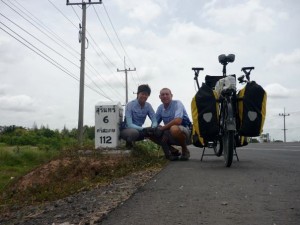 One thing that becomes hard when blogging about bicycle touring is the fact that the days all become one and the stories become the same. You try hard to make them interesting and talk about unique things that happened on a particular day. But what happens when nothing is that interesting?
The cycling is sometimes hard, the cycling is sometimes frustrating, the cycling is sometimes something you don't want to do anymore. Well, you don't want to do it anymore at that time! I love to ride my bicycle, cycling 50 kms a day around my house is fun. Sure it's time consuming and sometimes that may become a problem when you're training for long distances or trying to get in shape. You need to make time.
As you know, we leave early every day and we arrive just after check in time at our destination. I guess if we had more money and we had more energy we could visit a lot more locations and see all the tourist stuff in an area. But a lot of the time we just don't. This trip is not always about being a tourist, but sometimes it is. I like meeting new people and enjoy passing through the landscape of Thailand with nothing really planned.
It's like my holidays, I don't like busy ones that keep you running around, I like ones that let you relax and enjoy doing nothing. Is that wrong? I think everyone has their own idea about how to have a good holiday. Me, I like to do very little and I don't really care about seeing hundreds of things that someone says are a must. It might be different but I enjoy watching people be people, it's often very interesting to me.
Today we rode, it was nice, it was cloudy… we were on back-roads that were free of cars. This was great for 40 kms until we hit sand and single tracks. Natt chatted to a local lady who told us that our route was not going to work and that we needed to add 4 kms of cycling to get around a nearby river. This was not a problem, and it did give us something different to look at.
We came out 17 kms before Surin on a very wide road with large shoulders and heavy traffic. It was not overly unpleasant, just a few more cars than we usually like. I like the quiet roads, I don't mind dodging potholes if it means that I don't have to deal with trucks and cars, but that's just me.
We rode into town where the traffic was much lighter. We happened across the city pillar, which Natt is collecting photos of herself in all the towns we can. Someday she hopes to have all 77 of them. We then continued on to the TAT Office.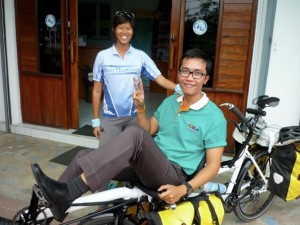 We've had mixed welcomes from Tourism Authority of Thailand offices, some are very helpful while others made us wonder how these people got their jobs. Anyway, today was one of the BEST experiences at a TAT office that we've had on this trip so far. Pongpasin Duangkate is the marketing officer for the Surin office, and since he grew up in Surin he knew a lot of details about the 3 provinces that it his office is responsible for.
Amazing info! Amazing helpfulness and basically just awesome overall. We'd like to say thank you very much and we will definitely be back here to spend more time in Surin, maybe not until next year but it is definitely on our list.
We found a hotel, somewhere that met our basic needs and was half decent. I've been here before, about 4 years ago, when I was on the Tour de Isan charity bicycle tour operated by Chris Byrd. The hotel is nothing special but they had a place for our bicycle and it is quiet (because you can not hear anything over the sound of the air-con).
Tomorrow we will head to Si Sa Ket, it's 105kms away but the route should be mostly flat. There are some Khmer Ruins to see and then we plan to meet with a cyclist who is coming out to ride back to Si Sa Ket with us. I love the friendly Thai cyclists.
Time for a nap! (4:17pm).