Day 53 – Non Ding Dang to Mueang Buri Ram
Provinces: 30
Distance: 3,692 kms
Time: 184 hours
We are meeting people along the way today. A secondary school teacher, who is also a keen cyclist, has arranged for us to have two different groups of people coming to ride with us. We're always happy to have other cyclists join us!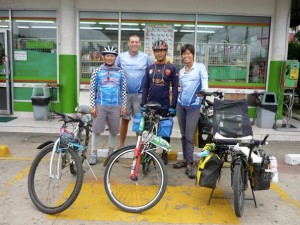 We rode out at 5:30am and headed 10kms to Non Ding Dang proper, where we meet two local guys who love cycle touring. They have been on many trips around Thailand, especially in Isan, and had a wealth of knowledge about the Northeastern area. We had a nice chat to them while we rode but eventually the shoulder became narrow and we were forced to ride single file for 30kms or so.
We stopped to have a coffee break, where we were better able to chat and receive tips from them about cycling in the surrounding hills. They also shared with us some of their other cycling experiences, both of them surprising us with their knowledge since they had only been riding for less than seven years. I guess it just proves that anyone can get into the sport of cycling anytime in their life and still have many wonderful years of travel and adventure.
They've done their share of hills and have cycled much of the border of Thailand from Pattaya anticlockwise to Chiang Rai. It really is some pretty amazing cycling along the border and some of it gets very hilly in the north, more hilly than I would ever personally want to do. I like cycling but I don't like to punish myself. I'm lazy at heart and getting me to cycle 100kms in a day is enough in my mind. I'll admit that I've never been an athlete.
They shouted us second breakfast and we grabbed some photos and parted ways, us going towards Buri Ram and them heading back south towards their home. We rode for 40kms by ourselves down a road that got progressively busier as the day's time marched onward.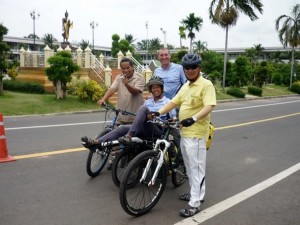 About 10kms out of town we pulled into a local high school to meet a music teacher (and fellow cyclist). We ate lunch from the school canteen and chatted about cycling, Buri Ram, music, and more. There was some talk of Natt getting up on the stage and talking to the students, but it didn't happen. I think Natt was happy because she wasn't mentally prepared for it.
The music teacher became our guide into town, cycling with us to local bicycle shops, the post office, and finally helping us to find accommodation for the night. I must admit I got a little snappy at the end of the day and the last 5kms really took it out of me. I think I was hungry and tired and just wanted a shower and rest. I'm still pretty tired now after demolishing a Pizza Company pizza that we had delivered to the room. We had it delivered because we were too lazy to go looking for real food.
The music teacher shared with us some history about Buri Ram and took us around to a few locations, giving insight into the town and its Khmer origins. Unlike a lot of Thai cities from the period Buri Ram does not have a City Wall, but rather a very wide moat which is very pretty. The moat has beautiful trees and exercise tracks circling it, making it one of the more green city areas I think I've ever seen in Thailand.
We found a hotel for 450 Baht per night. It is a big room, with air-con, and decent wi-fi. The hotel is about 1km away from a large shopping mall so tomorrow we plan on getting some supplies and relaxing before heading on to Surin (only 60kms away).