Day 42 – Chachoengsao to Chon Buri with Dog Bites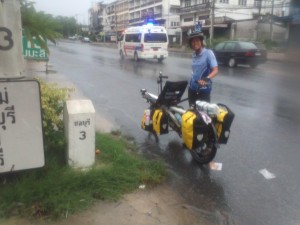 It started out as a lovely morning… we were riding quiet roads and the sun was shinning. At around 25kms a massive storm front came through and we waited at a Tesco Lotus Market for over an hour for the rain to settle down, the road was 3 inches think in water and so was everything around us.
We continued riding in the cold rain once there was a decent level of visibility. It really wasn't that bad, only problem is you cannot take out the camera for photos or get into the panniers for fear of everything inside getting drenched.
We had routed all back roads that would take us through some small local communities. Compared to the past 2 days it was near perfect riding, except for the occasional crossing of a major road. Please consider GPS and Google maps when planning a tour in Thailand, it can take the worst routes and make them into great days of riding.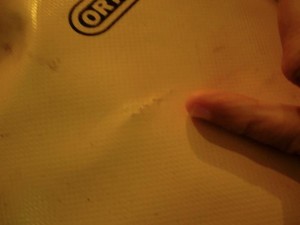 We had a rather large dog try to eat one of our panniers, I'm personally glad it was the panniers and not my legs. He managed to nearly tear a whole in the rear left pannier. Upon inspection we determined that it was definitely very close to tearing so we covered the inside and outside with our wonderful gaffer tape and kept on rolling.
We arrived on the outskirts of Chon Buri just in time for a pee break and to get a coffee at the local PTT's Amazon Cafe, where we met a guy named Kit.
Facebook Update:
Just met owner Kit from www.bmx40plus.com, website covering BMX news in Thailand
He was a great guy. He spent a good half hour talking to us about the area and helping us find the things we were looking for. Thanks Kit! I checked out his website and he had already posted some photos of our bike and us with some back story about our trip across Thailand. So again, thank you Kit.
I've put a link to our ThaiMTB and bmx40plus thread on their forums in our menu bar under the TOPICS menu, but they're all in Thai language so I hope everyone can read them. Some of the forum threads contain photos of us, if you've not seen enough already.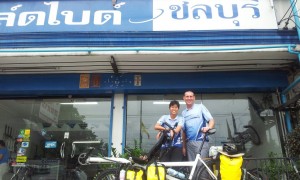 Once in Chon Buri we went to the post office and sent ourselves a postcard, then we headed to WorldBike Chonburi to get our booked signed. They're very nice people and very friendly. They had already heard about our story and little did I know that the owner is already a facebook friend of mine, so we had a short chat, grabbed some photos, and re-exchanged details.
WorldBike Chonburi is a great shop. If you're down near Pattaya it is really worth visiting and having a look at their biking gear and chatting to the owner 🙂 They've got a facebook pseudo-person here, worldbike.chonburi, so friend them today.
We made it to The Rock, a nice new love hotel for 650 Baht per night. The room is great, clean, has wi-fi, and is better than many hotels we have stayed in over the past couple of months. Amazingly this place is only 100 Baht more than the total dive that we stayed in at Samut Sakhon (another love hotel but very low grade). It's amazing the difference in quality you can get for just A$3.50.
So tonight we will relax with decent internet. Natt is in a download frenzy at Bittorrent because for the past 10 days she's had no decent internet and was running out of TV shows and movies to watch before bed time. So hopefully we've got a blockbuster to watch on the small screen tonight.
Tomorrow is a 125km day to Rayong via Pattaya. We don't plan to spend more time than we have to in Pattaya, neither of us are fans and we'll just be visiting the Tourism Authority of Thailand office and then leaving. It's not a Provincial Capital, it's just a city in Chon Buri province, but it is where masses of foreign tourists visit, so I guess that's why the TAT office is there.
Later, time to fire up, CinemaMacBook!