Day 20 – Phang Nga to Khura Buri – Amazing Route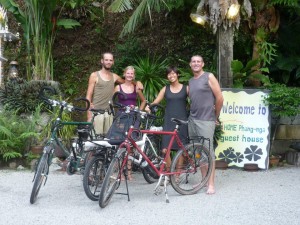 Today's ride, 115 kms and 788 metres of hills. My ass is extra sore and I'm sleepy. The pair of cyclists we spoke to along the road the other day decided to stay at Home Phang Nga Guest House as well, so we had a couple of beers and talked about the world with them last night. Their names are Thijs and Liesabeth from Belgium and you can read more about their trip on their website luswaq.be. It was great to have a chat to some other touring cyclists after only 20 days into our own trip.
They'd done around 5,000km through India, Laos, Cambodia, and Thailand. They're only in their mid 20s and it sounded as if they were thoroughly enjoying their cycling experience in Thailand, more so than their travels in India they both conceded. We talked for a few hours and then it was off to bed, we were going to cycle for 115kms and start off at 5:30am so we needed sleep. As you saw yesterday the accommodation was great, the bed was very comfortable, and we slept like logs.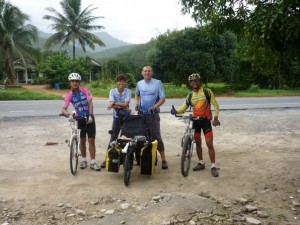 When we woke, Chai and Dtom from Home Phang Nga Guest House (facebook) were outside pumping up their bicycle tires in preparation for a morning ride, as they are both members of the Phang Nga Cycling Club. They traveled with us to the border of Amphoe Phang Nga and Kapong, which is also the highest peak we cycled over that day (actually the highest that we've cycled over on our trip so far). It was an ascent of 92 over a short distance of only 1.6kms. It was VERY hard work, but we managed to make it to the top with only one short break about 200-300 metres from the top.
The cycling through Phang Nga was probably the prettiest we had seen… it was hilly, yes, but more importantly it was unspoilt, the road had very light traffic and there was not much trash or development to spoil the scenery. All of these things made for a very pretty and satisfying ride. Compared to the same 100km distance on the other side of the peninsula I'd have to say that this side is truly more amazing with regards to those things that appeal to touring cyclists. I wish I had cycled it many years ago and I'm looking forward to the next 200km until we reach Chumpon.
We finished our ride around 2pm today, we're definitely getting stronger. I know I keep saying that, but it's true after 20 days and 1,524 kilometres. I'm very much looking forward to the 3,000 km mark and the extra strength and distance we should comfortably be able to ride by then. We are close to making our 13th province and we're powering along. After all the media interest we received yesterday from or press conference in Phuket I hope our 'little story' will continue to grow, and when we ride into Bangkok later in the year something magical will happen.
Tomorrow we ride into Ranong before heading east to Chumpon. In Chumpon we will meet up with our friend John Graham from BicycleThailand.com who will ride with us for a few hundred kilometres. Time for sleep… just after I put some aloe vera cream on my butt.