Day 19 – Phuket to Home Phang Nga Guest House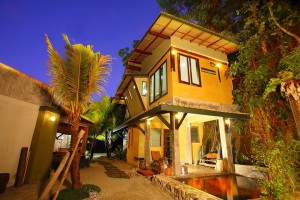 Today we left at 5:30am from Phuket town and headed towards Phang Nga, a distance of 95km with 441m of ascent. We had a meeting with the Tourism Authority of Thailand staff and a couple more interviews in Phang Nga. It was more of a photo shoot actually, as they had us do a half dozen loops around the town's round-a-bout so the video man could catch some action shots of us. It was fun, they didn't interview Natt but I think the photos and video they took were just extras to go along with the interviews we did yesterday.
The cycling today was easy. There was plenty of cloud cover and we managed to get 70km done before it was really even that warm, one benefit of starting at dawn. There were a lot of rolling hills but I think the 2 days off in Phuket and the increasing strength in mine and Natt's legs made it easier to cycle. We've covered 1,419 kms so far and I can really feel our legs getting stronger, even if it is only day 19.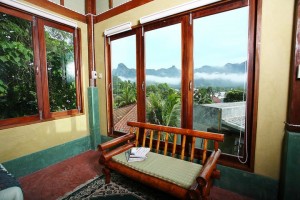 The lovely staff at the Tourism Authority of Thailand office gave us some advice on Phang Nga that made us want to spend an extra day here, but since we'd already spent more than our allotted time in Phuket it was just not going to happen. They helped us find an amazing little gem called Home Phang Nga Guest House, it is a small 6 room place that sits on the side of a mountain. The room we stayed in has an amazing view of the mountains on the opposite side of town, you could easily live her for a month just enjoying the view.
Some of the other rooms have natural rock walls in the bedroom and bathroom, even with small amounts of water running over the natural rocks, it is pretty amazing. It's design is lovely, nice green color scheme and the whole place has a great feel about it. I suggest a visit to anyone that is looking for accommodation in the 800-1,500 Baht price range. If you're used to staying places that are a little more expensive don't rule this one out, it has plenty of charm.
I'm just taking it easy enjoying the view as I write this update. Natt is having an afternoon Nanna nap as she gets tired when waking up at 5am every day, understandable. I think I might take such a map myself once I've finished this update. But, first things first. We talked with another group of touring cyclists we met along the road today, they were on their way south through Malaysia, Indonesia to Australia, and on to New Zealand. We didn't chat long since we were going in different directions, but this is only the second group we've run across on our trip. The first was a Thai man cycling the other direction a few days ago as we entered Hat Yai (from memory). He was leaving Hat Yai on his mountain bike and had two rear panniers fully packed and he appeared to be heading south bound.
I don't think Phang Nga has much night-life or entertainment, but the town is pretty. I'm surprised it's not more popular, but I guess the problem is in this area Phang Nga is competing with so many other attractions, but being less than 100kms from Phuket, where the tens of thousands of tourists visit, you would think that this untouched and more natural area would be more popular. I guess the overpriced island of Phuket wins out because of the money they're making and the advertising and free promotion they keep getting.
Come visit Phang Nga, you could spend a month here in places that most tourists would never visit and it's only a short drive from the Phuket International Airport. Pack your bicycle and cycle around here, I'm sure you'll get a good workout and you'll enjoy something that is more like the real Thailand and less like a tourist trap.