Day 21 – Khuri Buri to Ranong and a visit to the Thansila Resort!
Khuri Buri was a bit of a let down, the town itself is just a strip running either side of the freeway road, it's wide and unattractive. I guess the town is just a place for people to get things they need and nothing more. It was hard to even find a place selling food for dinner, so overall it was nothing special. The Bungalow was ok, quiet enough, new and clean but unremarkable. So getting up and leaving the town at 5:30am was not difficult.
We hit hills from the start of today's ride, it was slow going and after yesterday's hills we only managed 18.7km/h compared to 19.2km/h yesterday. We did have our first puncture and also our first crash today, just after we crossed the border into province number 13. Here is my status update on Facebook from this morning.
Facebook 8:45am – Crashed the bike, ok got a small metal splinter in the front tire. Went down pretty fast and I was unfamiliar with the sensation on this bicycle. As I was slowing to stop and check the wheel, the tire affected the steering and we came down 50% road 50% thick grass. Natt ok landed on her gloves and butt (small graze) and me nothing I notice. Bicycle is fine, needed to adjust something but destroyed the sidewall of the tire, hope it lasts 100kms to Ranong. Having breakfast now, just a little relax time. — with Natt Hamon at หาดประพาส.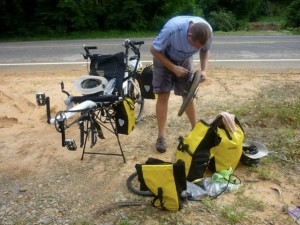 It's now 10 hours later and Natt has a few more aches, her leg, her arm, and her butt. On the bike she is sitting close to the ground and when we had our crash she was kicked from the seat (as was I) when the wheel twisted. I guess I had more time to respond whilst falling from my higher perch, but Natt being to close to the ground was on it in milliseconds. She's not got any bruises, but we will inspect tomorrow and hope that it's just minor aches.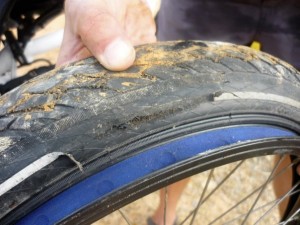 The bicycle took a little knocking around, but mostly the sidewall of the Schwalbe Marathon tire was destroyed. The sidewall, as you can see in the photo, does not look good. It's holding for now and not bubbling out, so I hope it holds until we can find a replacement. I know a trick of putting a piece of stiff plastic (like an Aussie ice cream container) between the tire and tube, stopping it from blowing out of the sidewall. I might have to fashion something similar before it happens, just to keep the tire rolling until a replacement can be found.
We have looked inside 3 bicycle shops in Ranong for a replacement tire and there is nothing suitable (we found some but they were low grade and had too many nobbles) for what we want, so we will hopefully make it to Chumphon and check out the bike shops listed on http://bicyclethailand.com/bike-stores when we arrive. Somewhere between here and Bangkok, which is 600kms away, must have something.
So we fixed the flat, realigned all of the twists on the bicycle and continued riding, it was slow and hot. Sounds stupid but the speed of 1km/hour less and the time spent repairing the puncture made the day feel very long and the last 10kms into town were a real killer. Once we arrived in town we soought out the bicycle shops, firstly to GPS mark them for Bicycle Thailand.com, and secondly to find a new tire for our bike. We didn't find a tire but we did visit 3 shops in town.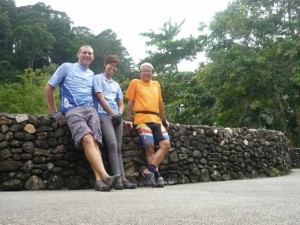 We had previously been to one shop in town, a small shop with a very knowledgeable owner who is a keen touring cyclist. We had visited the shop around 4 years ago, I immediately remembered the shop and the owner when we road up. The shop holds every bicycle that the owner has ever had in his life in addition to many others that are for sale. Viriya Bike – GPS N9 57.676 E98 37.609 owned by Sittipong is a place worth a stop, he loves touring and tourers.
We arrived there and checked out his stock. He had some 20″ tires for the front wheel of the Hase Pino Tour but he would not sell them to us as they were not high quality enough for our loaded bicycle. This surprised us but was a good sign of a business man who cares about his customers. In addition to this he insisted to take us to the Hot Springs that are famous in Ranong and to help us find good and reasonably priced accommodation.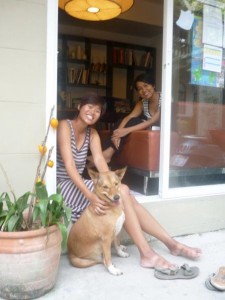 So we ended up at Thansila Hot Spring Resort, an awesome little space where you can spend the night for 650 baht only 200 metres from the hot springs. The new owner Noi is in her 30s, speaks solid English, and is a lovely person with a great smile. The wi-fi is great at this resort and I would suggest a visit here when you are in Ranong, it's only 3-4 kms from the noisy centre of town but is so quiet that I think tonight will be the first night I don't need earplugs.
So in all; one crash, hills, awesome bicycle shop owner, and lovely accommodation. Sleepy and Happy. Night, night.