Day 9 – Pattani to Narathiwat in the heart of the Red Zone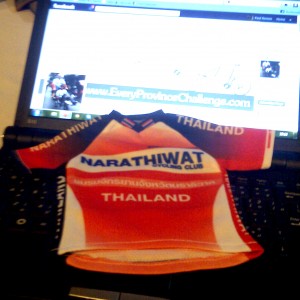 Distance Covered: 117kms
Riding Time: 5 hours and 15 minutes
Left with 30 cyclists riding around town at 6:10am. They escorted us to the beach of Pattani capital city, then 50% of the riders peeled away leaving a smaller group that would cycle the whole way to Narathiwat. This smaller group was led by three Muslim ladies who powered along with a nice tailwind at close to 30kms per hour. We stopped for breakfast at Yaring and everyone got into a strange mix of offal and chicken feet. Luckily they also had a beef curry dish which was pretty tasty and didn't have any of the strange bits that I loathe.
The group slowly got smaller as we continued on until we had only 10 people cruising down the highway past some historical locations, which we popped into to have a look south towards the Malaysian border. Around the 40km mark we started picking up new cyclists who would ride with us into Narathiwat. I think we counted everyone that joined us over the course of the day and it ended up being around 90 people. Some joined for 10km while others rode the whole 117km. It was really great having them along, it made for a great day of cycling and sightseeing.
Even though it was a long day, the sun luckily stayed behind the clouds and we even had a little afternoon rain to cool us down. We didn't bake and so even though it was our longest day so far, it was by far the most refreshing day of cycling we have had. Lovely cycling and lovely people. Everyone has been so generous and kind. For example, today cost us nothing. Not one single baht! We ate like kings every 20kms and enjoyed so much culture and friendship that it's hard to imagine that it was only one day.
None of this would have happened if Natt had not posted on ThaiMTB.com and asked for help to cross the 'red zone.' She told them of her fear, but also of her desire to travel to the beautiful Southern parts of Thailand. Everything we've enjoyed here is thanks to Halem Mala, or 'C' as he communicated to Natt, who offered to show us around. We didn't know what to expect, maybe just a quick ride around the block. But Halem and as his fellow cyclists from the region really pulled out all of the stops and made this experience truly amazing.
These few days as a foreigner in Thailand would have cost upwards of $500 if we had booked through a touring company, and the experience would have been something that would pale in comparison to what we have experienced. These amazing people want to show their little part of the world and have made us feel totally different about it.
I don't think I will every forget this experience, and I don't think it will be topped during our ride through the other 74 provinces of Thailand. I just feel at the moment that the Pattani Cycling Club has given us a real look at what it is like to live in an area that most of Thailand is scared silly off and what it is like to be a Thai Muslim. I got the feeling that although they love being Thai they also have a strong kinship to Malaysia and it's culture. For this reason these people are a combination, living somewhere int he middle of the two.
During the ride we visited the 300 year mosque where our mostly Muslim cycling group stopped, washed themselves, and put on appropriate garb to participate in mid-day prayers. There was a light rain and it was pretty magical.
So many other things to talk about. We stopped in 3 different tambon HQs and met the local man in charge, enjoying their hospitality at each location. I tried my best to communicate what our trip is about, how far we are traveling, and answered the usual questions about how long I had lived in Thailand and about my level of Thai skills (or lack thereof). I also tried my best to convey my thanks to them for everything they had done.
Although the riding was by far our fastest 100kms, the actual day was the longest because we stopped at so many places and met so many people. I wish I could remember them all, but I was having enough trouble just getting polite words out of my mouth.
I'm 99% sure these are the Amphoe we traveled through today:
Pattani, Pattani
Yaring, Pattani
Panare, Pattani
Sai Buri, Pattani
Bacho, Narathiwat
Yi-ngo, Narathiwat
Narathiwat, Narathiwat
Anyway, enough for now, my brain is a little fried and I need some much deserved sleep.