Day 10 – Narathiwat to Pattani via Yala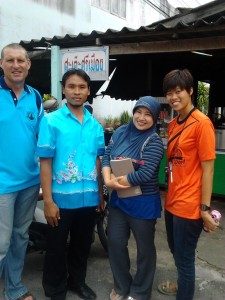 It is now day 11 and after a very long day yesterday I have now got the energy to write about it. We started alone at dawn in Thailand's largest Muslim town, Narathiwat. This was the first time we had ridden anywhere without someone accompanying us, but we had been told that there would be someone to meet us at the road which heads off from the main highway. To make it back to Pattani via Yala we needed to travel 50km on small country roads, roads that most people had told us to stay off of. We didn't.
We had a sole rider meet us on the highway. He was a little shocked to be the only person joining us, making our small party now 2 bicycles and 3 people. The highway meeting point was about 10km out of town and it was lovely riding this time of morning. The road that was so busy and bustling the evening before was now quiet and serene. Our new friend got on the phone and rang a couple of people. He found out the story and informed Natt that the Yi-Ngo cycling club was going to meet us in Yi-Ngo, which was 1km off of the freeway about 20km outside of town.
We rode, relaxed, and enjoyed the morning. We didn't sleep all that well the night before because the hotel we stayed in has an attached nightclub and the baseline from the music made it to our room until 1:30am. We really could not complain because the local bicycle shop owner from Sana Bicycle in Narathiwat had most graciously paid for our dinner and our room that evening. We were shocked and surprised once again at the fact that complete strangers had looked after us so well. So, we must give a big thank you to Sana Bicycle of Narathiwat.
Anyway, we hit the turn-off and rode up into town where we met 8 other cyclists, some of whom we had met the day before riding into Narathiwat. They asked if we needed breakfast and we said no at this stage (we had mentioned to them the day before that we usually eat breakfast after we start riding) and rode on. About 5km down the road we found out that they had all waited to eat with us, so they were a little hungry at this point and we all agreed to stop at the next town and have breakfast together. We pressed on and cycled towards the red center of the "red zone."
These 3 provinces have coding to let people know which areas inside the red zone are safe-ish and not-so-safe. The main towns are marked white (safest), most of the major roads and many surrounding area's are pink (safe-ish), and finally some rural and outlying areas are red (active and not-so-safe). Our ride today would take us through some red patches, not that you could tell from the carefree and relaxed nature of the other cyclists.
Slowly, and before we reached breakfast, the group grew to 15 people. We stopped and enjoyed a great breakfast of red beef and rice and some sweet roti. As we were all ordering and talking about food, someone asked me what I'd like to eat and I knew it was called Neua Dang (Red Beef), but in Thai I accidentally let slip the words Moo Dang (Red Pork). Obviously Muslims don't eat pork and I was a little worried about my social faux pas for a moment and then they all started laughing at my slip up. Anyway, the Neua Dang was tasty and I ate a big portion.
We cycled through small hills and as we approached the town of Russo, even more riders joined our group. We had now swelled to 30 cyclists as we headed for the town municipality where we were given drinks, a warm welcome, and even met the Mayor of the local district. The Mayor was lovely and I tried my best Thai and he tried his best English and we had a chat about cycling and the very beautiful areas we had ridden through. We asked the Mayor to sign our log book and then he presented us with a framed picture of the King and Queen of Thailand visiting his district in the past. The picture is of the King and Queen in a boat being rowed down a river surrounded by the beautiful flora of the area. Obviously the framed picture was too big to fit in our pannier bag so they offered to mail it to Bangkok for us. How is that for service!
After photos, of which we'd already done plenty, some of us headed off to Raman, our first district to visit in Yala. Natt and I felt like the baton in a relay race, being passed off every 25kms to another group of riders from a different area. Each of the riders that joined us must have traveled 50kms or more that day just to cycle with us. Natt and I both feel deeply honored by their attention and support.
The hills have been the most we have done on our trip so far, and with a planned 140km day I was really not sure if I would make it with the fully loaded bicycle. The old Hase Pino Tour fully loaded is not a light bicycle and it takes a lot to get up the hills. Consequently, we mailed home another 4kgs of stuff today making it nearly 8kgs in all since that we've shipped home since we started. I think we will be dropping off 1-2 more loads like that before we get down to our final cycling weight.
We arrived in Yala, was taken to the city municipality, and got the big man to sign our log book. It's getting easier and easier to get people to write something in our log book, now that they can see who else has signed it. They usually skim through a couple of pages and see other Mayors and Tourism of Thailand Offices' names and they just sit down and start writing, which is great. So far no-one has said no, even though some of them have written entries that even Natt cannot really read. The Yala people were lovely also, they've all been lovely.
After the Yala City Municipality visit we headed for the local bike shop.  The shop is not very flashy but they did have some lovely frames and parts. From the shop's name 'Mountain Bike Service' I don't think they carry much stock, but rather fix, rebuild, and maintain many of the high end bicycle's we've seen. From what I could tell he also did a little bit of work on classic motorcycles but the owner was a proud cyclist, showing me a photo from when the 'Around the World Cycling Odyssey 2000' came through this area back in the year 2000.
One of the local big wigs from the government district sport promotion office took us to lunch, which again was very nice, and then we headed off back to Pattani, alone. I think the big wig would have followed us with his motorcycle because he kept mentioning how he was worried about us riding by ourselves, but we needed a little break and we had been told this section of 38kms was a 'white zone' and therefore we felt as safe as we could.
We headed off and received a call that our magic man, Harem Mala (pictured), had arranged for some more guys to ride from the 23km marker into Pattani with us, so we only had a small time by ourselves anyway, before we found them. And they repeated something we'd heard many times before, "we could not let you ride alone" which from what I can tell would be translated more correctly as, "it would be rude for us not to ride with you."
We made it back to Pattani, under light rain and clouds, making the last 30kms of a 138km day very easy, besides us having made a fresh hole in the bottom of the panniers that I had been too be busy (or was it too lazy) to fix. So we tried to avoid the puddling water and managed to make it to the My Gardens Hotel. The room was basic but prefect after a long day cycling. I think the only thing we saw in the room was the bed, cyclists' tunnel vision?
After 255kms in two days we decided to stay 2 nights and prepare ourselves for the 200kms westward ride into the wind. It's going to be hard… so the legs got a rest. Our original plan was 2 days on and 1 day off, but now I think that 3 days on and 1 day off might end up being the norm. Also, today we 'fixed' the front panniers. We re-taped (love you gaffer tape) the bicycle tube patch we made with some more reliable SCOTCH brand tape and hopefully that will get us back to Hua Hin, which will hopefully be in 18 days.
One thing I forgot to mention was that I found a new-old bicycle seat at the local bicycle shop in Yala. I found the same seat that Natt had bought for me back in 2009 which I used on my Trek 4500, until it fell apart. It was very soft and large, very different to the small hard one that came on the Hase Pino Tour when we got it. So I swapped it over today and I think my ass will be very happy tomorrow.