Day 2 Sichon to Nakhon Si Thammarat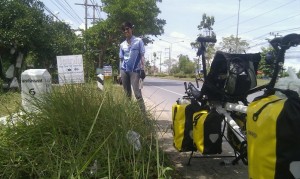 Was a hard second day. I have already starting planning about stuff that we do not need to carry with us anymore and can post to Bangkok. Everything is fine, my muscles are definitely not in the correct places for this new cycling position and the saddle is hard on my tender ass. Give me 14 days of cycling and I'm sure most of these problems will fix themselves, but it's just the waiting for that to happen which is going to be the hard part.
We cycle through the 'red zone' in only 2 more days. Once we are in the 'red zone' it will be 3 long days trying to get it done quickly and without incident. I hope my little legs and large bottom will be able to deal with it. Simple things are starting to dawn on me, like the fact that I brought my clippers to shave my head and now I know that I can get this done for 50 Baht (less than $2) and I only need to do it once a month. It was stupid to think I needed to bring the clippers to save $10. I think I'll be putting them in the box to send home.
I've also got a couple of books I'm going to send, and a pair of cycling shoes (my old ones) in the bottom of a bag. My new shoes I have brought have not given me any problems but I have been covering my long toe (what is it's name?) because on our test rides back in Hua Hin the new shoes did rub a little bit of skin off from that toe. The heaviest thing I don't want to post home, and probably shouldn't, is Natt. She's 55kgs and posting her to Bangkok would certainly make the bike lot lighter… but it would not be much of a honeymoon without her :p
We've been stopping in at post offices, and sending a postcard back to ourselves in Bangkok so we can show people that we have been in each Amphur Mueang (capital city). We would really like to be able to prove or demonstrate that we actually did do this bike ride and sending postcards like this is one of the few simple things we've been doing to substantiate our claim once completed.
We'll be getting photos outside each capital city with Natt or me on the Hase Pino Tour fully loaded next to a 'mile marker' that is under 10kms distance from big towns so people can see that we were there. It might not be much but we see these 'mile markers' all of the time and they're our guide that let's us know how much further we must pedal to our destination.
Finally we've been getting the accommodation staff, the Tourism of Thailand staff and/or local municipality personnel in each town to write a message in our 'log book.' Just a little something simple to say they saw us and the date with their signature. It is not 'super' official, but at least we've got a record, something that once completed and put all together with our actual GPS routes is hard for someone to say we didn't do this.
I forgot to mention yesterday we nearly had a massive crash in Surat Thani within the first 5kms of starting. I am so used to riding on my Trek 4500 with no hands that I absentmindedly took both my hands off the handlebars to reach behind me and pull down my jersey and adjust my cycling shorts. I can tell you this bicycle does not allow the captain rider to ride hands-free at any time. I think it must be because of the extra body weight moving around in the front seat directly above the front wheel.
As we rode down the main street of Surat Thani with many people staring (more on that another day) at us, the bike had tilted to the right and nearly spilled us out onto the street. Luckily I managed to get back control of the bike and we recovered with a lot of swearing on Natt's behalf, understandable because she was not expecting anything.
I'm not sure if the design saved us, because the front wheel cannot be turned more than 40-45 degrees since there are a couple of bolts that restrict any further movement. This restriction of movement past the 45 degrees point possibly stopped the front wheel from turning which kept us upright for longer, allowing me a bit of fast recovery action. I'd like to know for sure, but I don't plan on doing it again. Maybe I should send an email to Hase Bikes.
Anyway, off to dinner with one of Natt's friends from University. We've got a day off in Nakhon Si Thammarat tomorrow to find a couple of bicycle shops for John Graham of Bicycle Thailand and also check out the local historic places.
The next day of riding is 105kms to Phatthalung, which is going to be long and hard. Hopefully the day off will help and I think we will leave at dawn (5:20 am). Today we arrived just after lunch (rain free!) and it was getting very hot with no shade from the clouds.