Day 49 – Mueang Trat to Soi Dao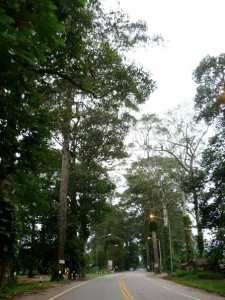 Hills and pimples. All cyclists know the pain of a pimple on their butts. It was fine a couple of days ago but today it is a mammoth ingrown-hair puss-ball waiting to explode, but it would not, so I rode 125 km with a very tender ass. One word – PAINFUL.
The cycling was fine, we rode 50 kms before breakfast and the sun never really came out. At the 90 km mark the hills started and continued until we stopped riding. We covered most of the hills today, leaving an easy breezy 85 kms for tomorrow on flat roads (we hope).
I'm not as tired as I expected I would be, even if it was our second hilliest day since we began this trip. The main problem for me today was sitting in the saddle. I didn't move very often because once I found a location on the saddle that didn't hurt I rode on that spot until it was numb. When we arrived at our destination I must have unknowingly bumped it because it finally burst!
I covered it in Dettol cream and will change the plasters a couple of times tonight, in an attempt to soften the skin around the area so I can get all the puss out and get it to bleed. This will help it to heal faster because there is no more puss inside.
It all sounds gross I know, but it's a problem when you spend 170 hours in the saddle over a period of 45 days, something is going to give and it's usually your ass, it's not as tough as you think. Anyway, I hope that tomorrow's 85 kms will be PAINLESS or at least a lot less painful for me. After tomorrow's ride we have a day off in Sa Kaow, so I'm pretty sure it will be fine by then.
We got lost today twice, the GPS route that Google maps created was pretty good but there was one error that we had to back track from and a second error where a road existed on paper but not in real life.
Both of these errors only added about 1km to the whole day, but overall using the WALKING setting from Google maps and uploading a GPX has worked for us pretty well so far, very few errors and 99.9% of the kms we've done have been just fine. It's a great method to find back roads that cut off a lot of kilometres or take you away from highways and big main roads.
We had to push the bicycle up a hill again (second time so far on this trip). The problem, just like last time, was that the hill arrived after 90kms of cycling, so we were already worn out when we reached it. It was only 1 hill of about 100 metres so it was no big deal, but pushing the bike rather than riding it is a little annoying.
It was raining heavily and there was no shoulder, and since there was a decent amount of traffic that we didn't want to risk falling off into I pushed the bike and Natt walked up the hill. I think when we get to Mae Hong Son there will be a lot of pushing. I think I will need to plan only 40-50 km days if possible so I can walk the whole thing pushing our bicycle if required.
The room we've found is decent, 400 Baht and it's back off the road about 2 kms before town. We didn't really look too hard for accommodation. This room allows us to roll the bike in, has air-con and hot water, plus a mattress that is like cement. I hope we're tired enough to not notice.
Waking up and leaving before 5:30 am this morning made our arrival time at around 2:00 pm just perfect, allowing us to just miss the massive rain storm that came through town at 3:00 pm. We've managed to miss 90% of rain storms on this trip by riding early and finishing before the afternoon monsoon rains. Everyone asks how we deal with the rain: (a) We and the panniers are waterproof, (b) We usually finish before the heavy stuff happens. We are usually napping or resting in our room during these massive downpours.
Not much else to report. We're about to head out and get some lunch since we don't need to visit any other places in this town. We will ride to the provincial capital tomorrow, so tonight it's food, packing, and sleep. In the morning we'll leave around 6am to arrive just before lunch, hopefully rain free again.
Natt's got a friend from university that comes from Sa Kaew. He will be taking us around town on Saturday and giving us a private tour, something we've not had since way back in Phuket, so that should be nice.
Final note – we tightened up the front pannier rack/stand this afternoon, it had come a little loose and was vibrating while riding. I noticed it yesterday on the short ride and forgot to play with it last night. We've also had to tighten the seat bolts once a few weeks back, nothing major but it looks like everything on this bike needs a once over every month (or around 2,000 kms) or so to make sure that it's all tight and terrific.