Day 48 – Trat and surrounds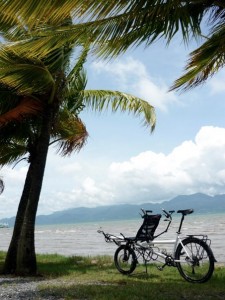 We have made it to Trat's provincial capital, the map shows we've done all the coast line and now we have 'only' got the interior of Thailand to go. Doesn't sounds like much, does it?
The last few days have not been as exciting as days before. I guess we've had less people coming out to ride with us and the roads have been more busy. I miss the quiet back roads and I'm not sure what to expect for the rest of the trip.
One problem with our initial plan to visit the amphoe mueang of each province is it brings us to the traffic hubs in each area. I remember when we rode from Hua Hin to Kuala Lumpur we tried very hard to miss the big towns, on this trip we're doing just the opposite.
It has been good to see all these places, but it is admittedly not the most enjoyable riding that Thailand has to offer. I'm hoping that for the next few months, while we ride the interior of Thailand, we will be able to avoid major roads and instead find quiet rice farm roads to travel.
Trat looks like a nice small town, not too busy and plenty of guest houses. We didn't really spend much time looking at them all, we just pulled into the first one that allowed us to roll our bicycle inside the room.
We'll only be here for the afternoon. We plan to visit the evening market and get to bed early since tomorrow we'll be up at 5:00 am and out the door by 5:30 am. Tomorrow we have 130 kms to ride with hills to the town of Soi Dao, I hope we make it in one piece and it is enjoyable.
We have heard the road we'll be traveling on tomorrow is only 2 lanes (unsure on the size of the shoulder), but we're unsure if it has heavy traffic. I'm hoping there is not too much from Sa Kaeo to Trat/Chanthaburi, I cannot imagine much but who knows. We could get lucky and only have to deal with cars and a few buses. Worst case scenario would be that the road is  the one that all of Isan uses to go to the beach, then it will be a truly different story.
More information at the end of tomorrow, I'm sure it will be a short entry after such a long day of riding in the hills.