Day 44 – Mae Rum Pueng, Rayong to Kram, Rayong
I have no idea where we stayed last night. It was somewhere 10kms east of Rayong. It was on the beach and simple. The dinner there was great dinner, but the sleep we had was much better. This morning we started riding at 8 or 9am, I'm not exactly sure. I didn't really care since I just wanted to move 40kms or so towards Chantaburi so that tomorrow's ride would be a little shorter and possibly easier.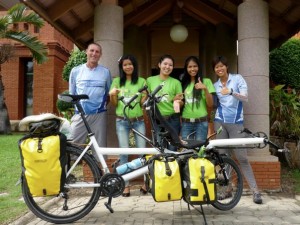 The ride was fine, we did it in small steps. I had a slight headache during the night and this morning I drank down plenty of water in the hour before we rode off. I've been resting plenty and thought I had been taking it fairly easy, so I'm not sure why I'm feeling so depleted. I don't think I'm sick, probably just too much sunshine yesterday.
We made it to Suan 2 Kru Resort in the town of Kram, which is in Chantaburi province (I think… just checked, no it's not in Chantaburi). Just down the road from here is a monument to a famous Thai writer who lived a few hundred years ago, it's not really amazing to look at but Natt was interested in the history and the location.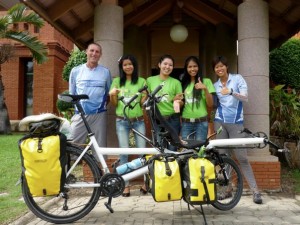 Cycling is different for everyone. For some people it's all about distance, while for other people it's all about seeing and visiting places along the way. Still others feel like it's about quiet back roads and others search out long straight roads that save time. Personally for me it's about seeing the world roll by and meeting people along the way.
This is obviously enhanced for me in Thailand as I have my own translator, tour guide, and information source all rolled into one wonderful person, my wife. I get to hear and understand a lot more than the majority of foreign cycle tourists that ride in Thailand, which I am very thankful for indeed. It makes the ride so much more interesting and fun for me.
Natt might get a little sick of explaining what we're doing to me over and over again, but she mostly does it with a smile. Sometimes with a much smaller smile when she's tired or grumpy at me for doing something stupid. Evidently, according to her, I do stupid things quite often. Anyway, listening and talking with Thai people through her has made this trip all that more interesting for me. The Thai people are always amazed about us visiting the 'Red Zone' in the south, and they also appreciate the concept of 'Tuk Changwat' which translates to 'Every Province', oftentimes sharing with us the provinces that they find the most interesting or worthy of a future visit.
Tomorrow we're heading to Chantaburi and then on to Trat. At this stage we're planning to take a ferry trip to Ko Chang because we have never been there before and it's been on both of our to-do lists for a very long time, about 10 years now. We figure now is the perfect time. I hope it's not too hilly, neither of us are really in the mood for that.
We have clocked over 3,000 kms and 1/3 of Thailand's provinces as of yesterday. There was no fan fair or alarm bells to mark the occasion, we pretty much rolled along and didn't really notice until today when I uploaded the GPX file to strava.com. We've got 2/3 of the provinces left and about 6,000 kms to go. I think that 5 months on the road is going to feel like a long time, maybe longer than I originally thought. I guess by the end of our trip I will know how many months on the road is FUN and how many months is WORK.
Previously I've done 30 days on the road with the Tour de Thailand charity cycling trip, and our trip from Hua Hin to Kuala Lumpur was quite long, but this trip that we're on now is the first 2, 3, 4 or 5 months trip on a bike I've ever done. I don't know what I'll feel like at the end. I'm hoping I will still be as excited and full of energy about it as I am now when it's nearly finished, only time will tell.