Day 105 Somewhere in Phayao to Amphur Mueang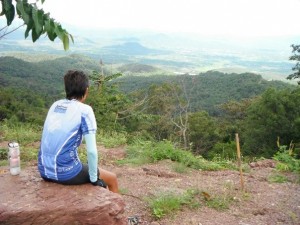 Cycling over the last 2 days has been hard, we've had plenty of hills and it's only the start of the hilly region. We are not athletes, we are just two normal people, people that were never particularly good at sports.
It's more about will than strength. So far we've done nearly 7,000kms and it's been hard some days and easy others, but at the end of everyday we are hot, tired and stressed.
We argue much much more than usual and we have to remember to relax and understand how the extra stress of this mammoth task effects us. Living out of bags, constantly changing environment, and tough physical efforts is the opposite to everyday life for the general population.
I am very happy that we have done this trip and with only 6 weeks left and around 2,000 kms I will also be very happy when it's over. I want to get back to 'normal life.' I have enjoyed the cycling, easy or hard, but sometimes I'd like to put the bicycle away and relax for a weeks or so.
I think the downside of this trip will be the fact that Natt and I will not ride a bicycle for many months after we return to Bangkok. I think it will take some time for the longing to cycle to return. I know from previous long distance trip this will be the case.
I am very nervous about Mae Hong Sod and the super hills in that area of Thailand. The hills there are much taller and steeper than anything we've already completed. I want to do them, I really want to beat this personal challenge we set for ourselves. BUT I don't want my personal life to suffer doing it.
The final ride into Bangkok should be easy if the rain stays away. Everything from Lampang to Bangkok, these 16 provinces, this 930kms, are flat but are also in the central plains area, the area that floods regularly. I hope we can complete it.
These next 4 provinces are the hardest, the longest, the hilliest and will be the test. Our Hase Pino Tour does not climb well, more importantly we don't climb well, we're not strong riders, we are slow and methodical riders, we just get it done.
We're trying to think of ways to make the trip enjoyable. I mean this is supposed to be our honeymoon. Maybe hiring a van to carry all our bags through the crazy hills would help. Maybe joining a rafting trip between Pai and Mae Hong Sod, and then just cycling back would give us a nice break. Cycling it twice just seems stupid.
We made this challenge for ourselves, we set the rules, visiting every Amphur Mueang… we know now we should have made it some interesting tourist attraction or natural wonder, but with 75% of the trip completed we cannot change it now.
Natt and I are under stress, we don't write about it, we don't like to look weak. Some days we have troubles, we're just that little bit 'extra' snappy when we don't have to be. I really don't like it, but when you're hot, grumpy, and tired for some reason your brain just stops working.
Nan was great, I really liked it. Phayao has a nice lake and a wonderful pizza shop. We will spend one day here and then off to Chiang Rai, only 100kms of mild hills then it's all UP from there.
I hope that our bicycle and our legs will survive. I hope we don't push the bike over the edge of a cliff and get a bus home. I hope we don't bite each others heads off and cause damage that cannot be undone.
We are – 6 bags, 1 bicycle, ever changing beds (hard, soft, harder, super stiff and occasionally comfortable), 2 people working as a team with their own stresses and limits trying to move forward.
I'm not sure how the guys who cycle for 10 years continuously do it. I need to read more of their blogs because as far as I can tell 2 to 2.5 months was the time that it became work. Hmm… maybe not, it's still fun…. but I can really tell you that I am seriously interested in the last 16 provinces and 930kms back in Bangkok and a month long rest from the bicycle.